Implementasi Keamanan Jaringan dengan Packet Filtering Berbasis Mikrotik Untuk Internet Positif Di SMKN 1 Praya
Keywords:
Internet Networking, Online Game, Social Media, PPDIOO, Packet Filtering
Abstract
SMKN 1 Praya is one of the schools in NTB with national standards. This school has a very broad environment. In addition, this school also has a fairly good internet network. This can be seen by the breadth of the internet network that almost covers the entire school environment. At SMKN 1 Praya the main problem is the use of internet network data by students to be used to play games and social media during study hours so we need a system that is capable of being a protection so that users cannot use the internet to play games and social media during study hours. . Based on this, the study aims to examine the implementation of network security with mikrotic-based packet filtering at SMKN 1 Praya. In general, this study shows the success of blocking several online game applications such as mobile legend, free fire, TOT and social media such as facebook.
References
Amarudin, A., & Ulum, F. (2018). Desain Keamanan Jaringan Pada Mikrotik Router Os Menggunakan Metode Port Knocking. JURNAL TEKNOINFO , 12 (2), 72-75.
Ardi, Z., Viola, K., & Sukmawati, I. (2018). An Analysis of Internet Abuses Impact on Children's Moral Development. JPPI (Jurnal Penelitian Pendidikan Indonesia), 4(1), 44–50. https://doi.org/10.29210/02018192.
Fadlil, A., Riadi, I., & Aji, S. (2017). Pengembangan Sistem Pengaman Jaringan Komputer Berdasarkan Analisis Forensik Jaringan. Jurnal Ilmu Teknik Elektro Komputer dan Informatika (JITEKI) , 3 (1), 1119.
Fitri, S. (2017). Dampak Positif Dan Negatif Sosial Media Terhadap Perubahan Sosial Anak. Naturalistic : Jurnal Kajian Penelitian Pendidikan dan Pembelajaran , 1 (2), 118-123.
Hardana, & Irvantino, I. (2011). Konfigurasi Wireless RouterBoard Mikrotik. Yogyakarta: Andi Offset.
Juardi, D. (2017). Kajian Vulnerability Keamanan Jaringan Internet Menggunakan Nessus. SYNTAX: Jurnal Informatika , 6 (1), 11-19.
Muzakir, A., & Ulfa, M. (2019). Analisis Kinerja Packet Filtering Berbasis Mikrotik Routerboard Pada Sistem Keamanan Jaringan. Simetris : Jurnal Teknik Mesin, Elektro dan Ilmu Komputer , 10 (1), 15-20.
Revilia, D., & Irwansyah. (2020). Literasi Media Sosial: Kesadaran Keamanan Dan Privasi Dalam Perspektif Generasi Milenial. Jurnal Penelitian Komunikasi dan Opini Publik (24), 1-15.
Saputri, O. E., Arifah, S., & Wulaningrum, D.N. (2014). Gambaran Penggunaan Internet Pada Anak Remaja Di SMP Muhammadiyah 1 Kartasura. Skripsi thesis, Universitas Muhammadiyah Surakarta.
Sofana, I. (2017). Jaringan Komputer Berbasis Mikrotik: Dilengkapi Latihan Dan Contoh Soal Mikrotik Training Certlfied Network Associated (MTCNA). Bandung: Informatika.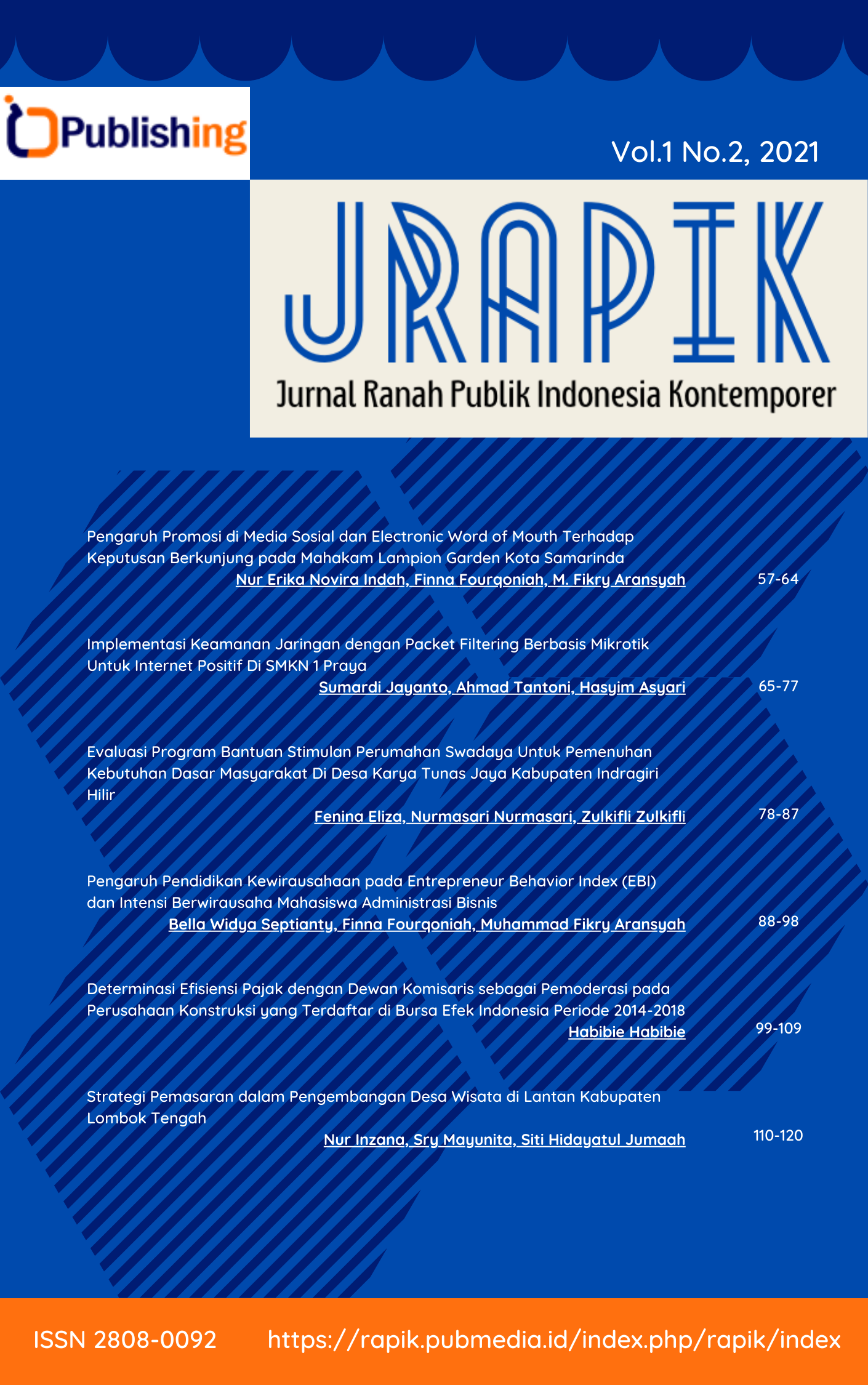 Downloads
How to Cite
Jayanto, S., Tantoni, A., & Asyari, H. (2021). Implementasi Keamanan Jaringan dengan Packet Filtering Berbasis Mikrotik Untuk Internet Positif Di SMKN 1 Praya. Jurnal Ranah Publik Indonesia Kontemporer (Rapik), 1(2), 65–77. https://doi.org/10.47134/rapik.v1i2.10