Pengaruh Promosi di Media Sosial dan Electronic Word of Mouth Terhadap Keputusan Berkunjung pada Mahakam Lampion Garden Kota Samarinda
Nur Erika Novira Indah

Universitas Mulawarman

Finna Fourqoniah

Universitas Mulawarman

M. Fikry Aransyah

Universitas Mulawarman
Keywords:
Promotions, Social Media, Word Of Mouth, Decision to Visit
Abstract
This researcher aims to determine whether promotions on social media and electronic word of mouth have a significant effect on the decision to visit the Mahakam Lampion Garden in Samarinda city. The independent variable used in this study is the promotion of social media (X1) and electronic word of mouth (X2), and the dependent variable in this study is the visit decision (Y). This research is a descriptive study with a quantitative approach. The sampling technique used was purposive sampling using the slovin formula and obtained 100 respondents using multiple linear regression analysis techniques. Promotion variabel in social media and visiting electronic word of mouth have a positive and significant effect on decisions.
References
Databoks.katadata.co.id. (2018, 09 10). Retrieved 2021, from Databoks: https://databoks.katadata.co.id/datapublish/2018/09/10/berapa-pendapatan-devisa-dari-sektor-pariwisata-indonesia
Ahmad, L. (2020). Pengaruh Promosi dan Electronic Word of Mouth terhadap Keputusan Pembelian Konsumen (Studi Kasus Sportways.com). Universitas Pertamina.
Ali Hasan, N. W. (2015). Pengaruh Electronic Word of Mouth pada Media Sosial Facebook terhadap Keputusan Berkunjung ke Desa Wisata Nglanggeran Gunung Kidul. Jurnal Media Wisata, 224-238.
Eren Dea Ajeng Inggil Santosa, C. S. (n.d.). PENGEMBANGAN OBJEK PARIWISATA SEBAGAI UPAYA UNTUK MENINGKATKAN EKONOMI LOKAL(Studi Kasus Objek Wisata Banyu Biru di Kabupaten Pasuruan) . Jurusan Administrasi Publik, Fakultas Ilmu Administrasi, Universitas Brawijaya, Malang, 89-95.
Ervan Masbanjar, Y. A. (2020, 08 24). kaltim.idntimes.com. Retrieved from IDN TIMES KALTIM: https://kaltim.idntimes.com/news/indonesia/melani-indra-hapsari/geliat-pariwisata-indonesia-di-tengah-pandemik-virus-corona
Nurmalia, S. O. (2019). Pengaruh Gaya Kepimimpinan Otokratis dan Disiplin Kerja terhadap Kinerja Karyawan Pabrik Kelapa Sawit pada PT. Perkebunan Nusantara XIII di Kabupaten Paser. Universitas Mulawarman.
Sari, V. M. (2012). Pengaruh Electronic Word of Mouth di Media Sosial Twitter terhadap Minat Beli Konsumen (Studi pada Restoran Hoycowsteak)l. Universitas Indonesia.
Sugiono. (2017). Statistika untuk Penelitian. Bandung: Alfabeta.
Sujarweni, V. W. (2015). Metodologi untuk Bisnis dan Ekonomi. Yogyakarta : Pustaka Baru Press.
Undang-undang Nomor 10 Tahun 2009 tentang Kepariwisataan. (n.d.). Jakarta: Biro Peraturan Perundang-undangan Bidang Politik dan Kesejahteraan Rakyat Sekretariat Negara RI.
Yani, F. (2021). Pengaruh Penggunaan Media Sosial, Word of Mouth Marketing dan Trust terhadap Keputusan Pembalian pada Distro Mutimuv Store Samarinda. Ejurnal Administrasi Bisnis, 161-169.
Zuhroh, B. A. (2016). Pengaruh Promosi di Media Sosial dan Word of Mouth terhadap Keputusan Pembelian (Studi kasus pada Kedai Bontacos, Jombang). Jurnal Komunikasi STIE PGRI Dewantara Jombang, 145-160.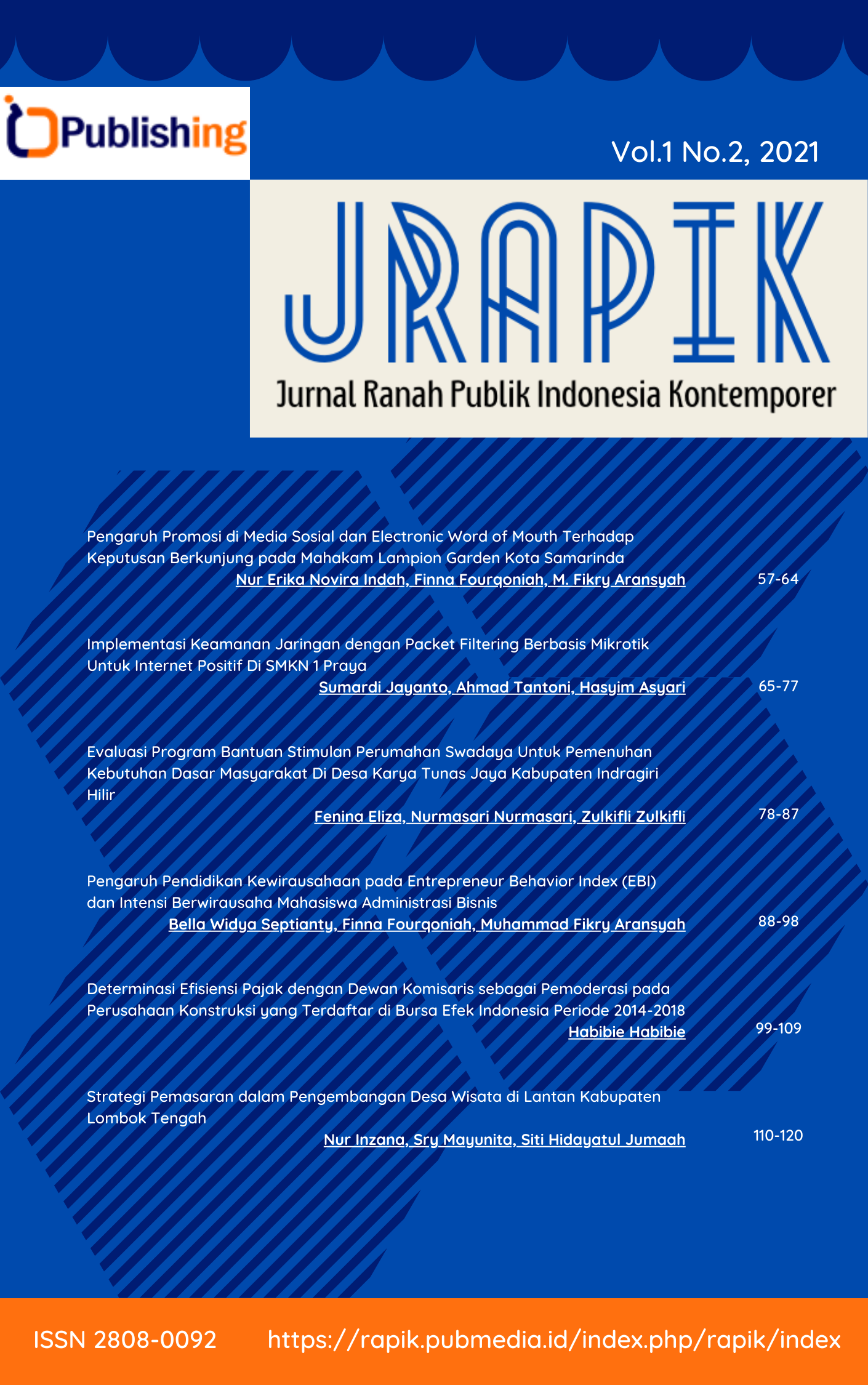 How to Cite
Novira Indah, N. E., Fourqoniah, F., & Aransyah, M. F. (2021). Pengaruh Promosi di Media Sosial dan Electronic Word of Mouth Terhadap Keputusan Berkunjung pada Mahakam Lampion Garden Kota Samarinda. Jurnal Ranah Publik Indonesia Kontemporer (Rapik), 1(2), 57-64. https://doi.org/10.47134/rapik.v1i2.11
Copyright (c) 2021 Nur Erika Novira Indah, Finna Fourqoniah, M. Fikry Aransyah
This work is licensed under a Creative Commons Attribution-ShareAlike 4.0 International License.