Implementasi Sistem Infomasi Berbasis Elektronik Melalui SIPD dalam Proses Perencanaan Pembangunan di Kabupaten Lebak
Keywords:
Implementasi Kebijakan, Sistem Informasi, Perencanaan Pembangunan
Abstract
Penelitian ini ditujukan untuk menganalisis implementasi Peraturan Menteri Dalam Negeri Republik Indonesia Nomor 70 Tahun 2019 dalam Proses Perencanaan Pembangunan di Kabupaten Lebak dengan mengeksplorasi faktor pendorong dan penghambatnya. Adapun teori yang digunakan yaitu teori implementasi kebijakan publik menurut Van Metter dan Van Horn dengan enam variabel yaitu: ukuran dan tujan kebijakan, sumber daya, karakteristik agen pelaksana, sikap atau kecenderungan para pelaksana, komunikasi antar organisasi dan aktivis pelaksana, dan lingkungan ekonomi, sosial, dan politik. Metode penelitian yang digunakan adalah kualitatif. Hasil penelitian menunjukan masih terdapat beberapa kendala dan permasalahan dalam Implementasi Peraturan Menteri Dalam Negeri Republik Indonesia Nomor 70 Tahun 2019 antara lain: (1) Tidak adanya lampiran mengenai standarisasi data kebutuhan pemerintahan daerah; (2) Adanya ego sektoral Kemendagri yang terburu-buru menerbitkan aturan dan aplikasi; (3) belum terujinya keandalan aplikasi baik secara struktur, isi, dan ketersediaan jaringan.
References
Agustino, Leo. (2020). Dasar-Dasar Kebijakan Publik Edisi Revisi Ke-2. Bandung: Alfabeta
Durachman, Y., Nuryasin, Harahap, D., Rodoni, A., Bakti, A. M., & Mansoer, M. (2020). Analysis of Factors That Affect The Quality of E-Government Services: A Case Study in Ombudsman of the Republic of Indonesia. 8th International Conference on Cyber and IT Service Management (CITSM). Pangkal, Indonesia: IEEE.
Indrajit, Richardus Eko. (2002). Electronic Government: Strategi Pembangunan dan Pengembangan Sistem Pelayanan Publik Berbasis Teknologi Digital. Yogyakarta: Andi Yogyakarta.
Sabani, A. (2021), "Investigating the influence of transparency on the adoption of e-Government in Indonesia", Journal of Science and Technology Policy Management, Vol. 12 No. 2, pp. 236-255. https://doi.org/10.1108/JSTPM-03-2020-0046.
Schofield, J. (2001). Time for a revival? Public policy implementation: a review of the literature and a agenda for future research. International Journal of Management Reviews, 245-263.
Sumardi, Nawir, A., & Mukhlis, S. (2021). Analisis Transformasi Birokrasi Melalui Pengembangan e-Government di Indonesia. Journal of Government Insight.
Wijaya, J. H., Yunanto, S. E., Setyowati, Y., & Supardal, S. (2022). E-partisipasi Masyarakat dalam Pelaksanaan E-government di Indonesia Tahun 2003-2020. Jurnal Administrasi Pemerintahan Desa.
Wirawan, V. (2020). PENERAPAN E-GOVERNMENT DALAM MENYONGSONG ERA REVOLUSI INDUSTRI 4.0 KONTEMPORER DI INDONESIA. Jurnal Penegakan Hukum dan Keadilan.
Yusuf, M., Adams, C., Dingley, K., Muntasa, A., Agustiono, W., & Oseni, K. O. (2020). Actor-Network Theory (ANT) for Indonesia e-Government implementation. 2020 6th Information Technology International Seminar (ITIS). Surabaya: IEEE.
Zempi, C. N., Maryam, S., & Priyono. (2022). E-Government Sebagai Realisasi Sistem Jaringan Terdesentralisasi Di Indonesia: Implikasi Sosial Dan Politik. Jurnal IKRAITH-HUMANIORA.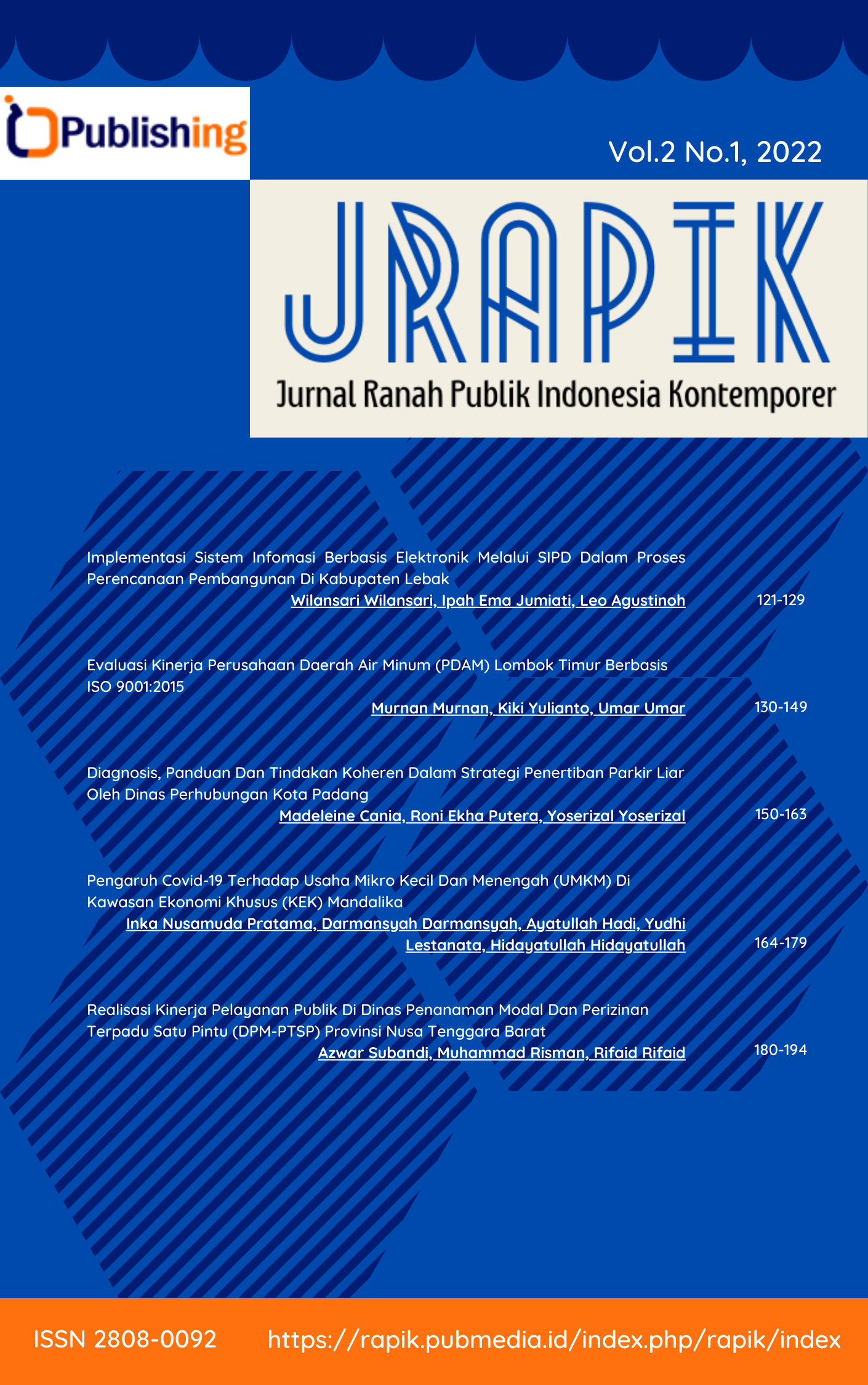 Downloads
How to Cite
Sari, W., Ema Juniati, I., & Agustino, L. (2022). Implementasi Sistem Infomasi Berbasis Elektronik Melalui SIPD dalam Proses Perencanaan Pembangunan di Kabupaten Lebak. Jurnal Ranah Publik Indonesia Kontemporer (Rapik), 2(1), 121–129. Retrieved from https://rapik.pubmedia.id/index.php/rapik/article/view/16