Review Buku: Co-Production and Co-Creation Engaging Citizens in Public Services (Taco Brandsen, Trui Steen and Bram Verschuere, eds)
Taco Brandsen, Trui Steen and Bram Verschuere, eds. Co-Production and Co-Creation Engaging Citizens in Public Services. New York: Routledge, 2018. xvi+323pp. (Open Access EBook, tersedia pada www.taylorfrancis.com)
Keywords:
co-production, co-creation, pelayanan publik, partisipasi publik
Abstract
Melibatkan publik dalam pelayanan yang diinginkan oleh mereka menjadi topik penting dalam diskusi-diskusi isu publik. Upaya untuk mengakses kapasitas publik melalui partisipasi dipandang sebagai solusi atas menurunnya legitimasi dan keterbatasan sumberdaya dalam melayani mereka. Berbagai solusi konseptual dan praktik terbaik telah dirumuskan dan ditawarkan oleh berbagai disiplin ilmu. Perkembangan keilmuan dan praktik di negara-negara modern saling menjadi masukan dengan perkembangan yang terjadi di negara-negara berkembang. Konsep co-production dan co-creation yang lahir sebagai gagasan Elinor Ostrom pada tahun 1970an, harus menghadapi realita bahwa gagasan itu belum dapat diterima waktu itu dikarenakan sejumlah tantangan. Melibatkan warga individu lebih luas dan dalam untuk menyediakan layanan publik membutuhkan upaya (waktu dan biaya) yang besar. Taco Brandsen,  Trui Steen dan Bram Verschuere tampaknya ingin menghidupkan kembali kedua konsep tersebut. Dengan dilatarbelakangi kesadaran akan tersedianya dukungan sistem sosial bagi tumbuh suburnya kedua konsep ini di hampir semua negara terutama perkembangan teknologi dan perubahan budaya saat ini, ketiga editor mengumpulkan sejumlah gagasan yang tertuang dalam sebuah buku yang sangat komprehensif.
References
Taco Brandsen, Trui Steen and Bram Verschuere, eds. Co-Production and Co-Creation Engaging Citizens in Public Services. New York: Routledge, 2018.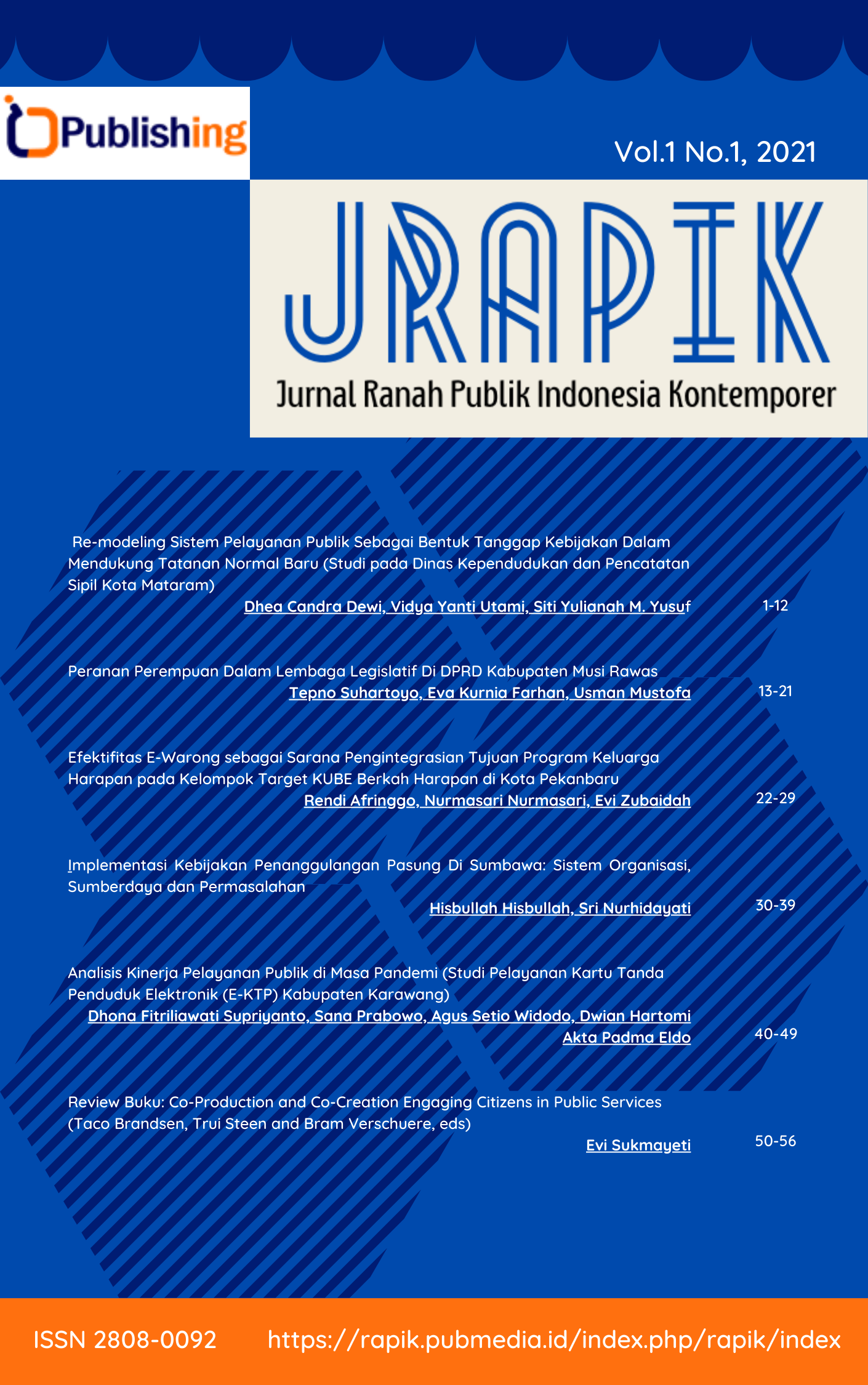 Downloads
How to Cite
Sukmayeti, E. (2021). Review Buku: Co-Production and Co-Creation Engaging Citizens in Public Services (Taco Brandsen, Trui Steen and Bram Verschuere, eds): Taco Brandsen, Trui Steen and Bram Verschuere, eds. Co-Production and Co-Creation Engaging Citizens in Public Services. New York: Routledge, 2018. xvi+323pp. (Open Access EBook, tersedia pada www.taylorfrancis.com). Jurnal Ranah Publik Indonesia Kontemporer (Rapik), 1(1), 50–56. https://doi.org/10.47134/rapik.v1i1.7